Lost Valley, Glencoe (Coire Gabhail)
Share:
Share on facebook
Share on twitter
Share on linkedin
Share on pinterest
Share on email
This page contains affiliate links
The Lost Valley (named Coire Gabhail in Scottish Gaelic) is a hidden and otherwordly valley surrounded by the impressive Three Sisters of Glencoe.
The route  to the valley involves a sometimes rough but intensely dramatic and scenic walk that is more than doable for hikers of all levels, and a fantastic day out. 
The Walk in Numbers
0
– 4
Hours to complete
0
Car parks (nearby)
0
m
Highest Point
0
Town (Nearby)
0
miles
(4km) Round trip
0
Extended walk option
What to Expect
Transport
By far the easiest way of getting there is via car. Some public transport options but by car is best.

MORE INFO
Climate & Weather
Between Apr – Oct is the ideal time for the walk. But always prepare for "4 seasons in one day".

MORE INFO
Route & Terrain
Rugged and rocky terrain mixed with dirt tracks and a low stream to wade through. Incredibly beautiful!

MORE INFO
Lodging & Camping
The hike has accommodation options nearby in Glencoe Village. There are some camping options too.

MORE INFO
Travel Essentials

TRAVEL INSURANCE


FLIGHTS


ACCOMMODATION


TRAINS & BUSES


CAR RENTAL


GEAR

Walk Lowdown
Walk Location
Route To The Lost Valley
Getting to the Lost Valley requires you to drive through some unforgettable scenery – open glens, mountains, rivers, and woodland.
You can park up at one of the Glencoe car parks that are a few miles away from the Lost Valley to make the trek through the stunning Glencoe valleys. 
Or park at the spaces directly in front of the Three Sisters (and Lost Valley within) and start your journey from there.
If you're getting the bus to do the walk, get a Citylink bus and jump off at the visitor centre in Glencoe, you can walk to the lost valley from there:  a beautiful 4 mile trek.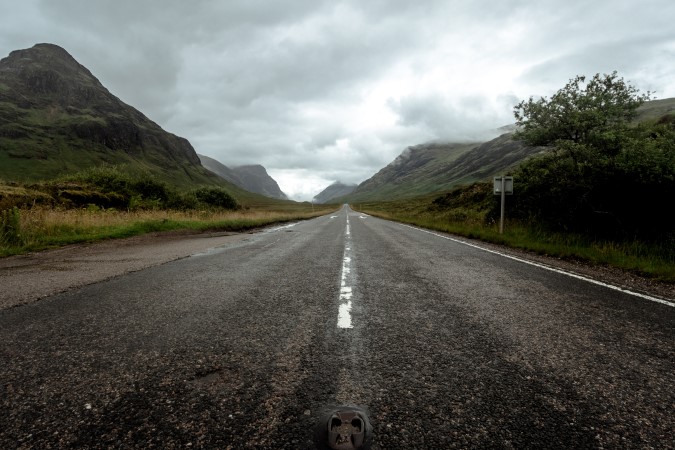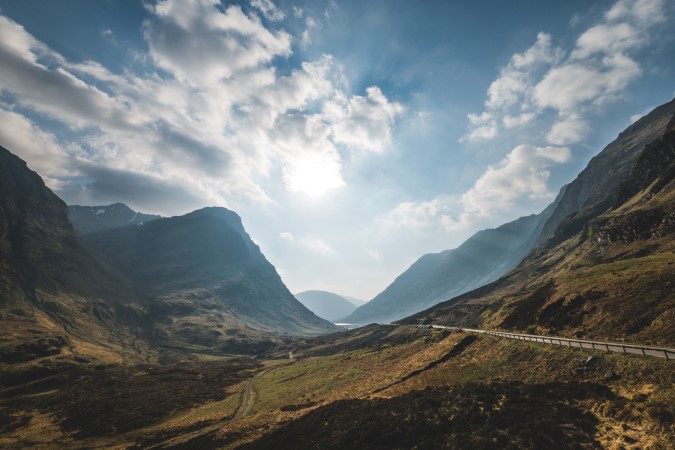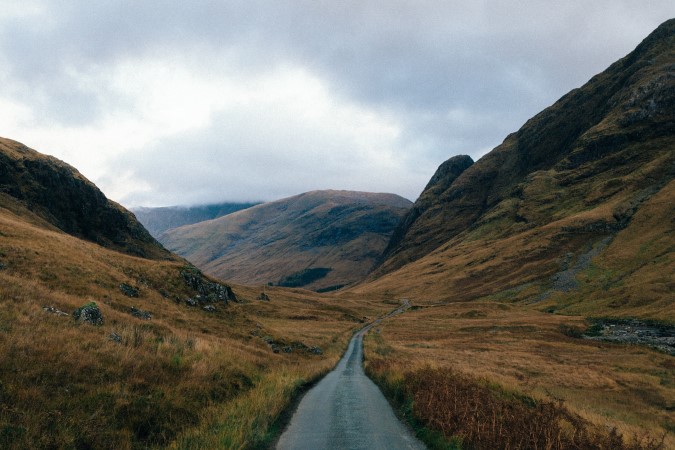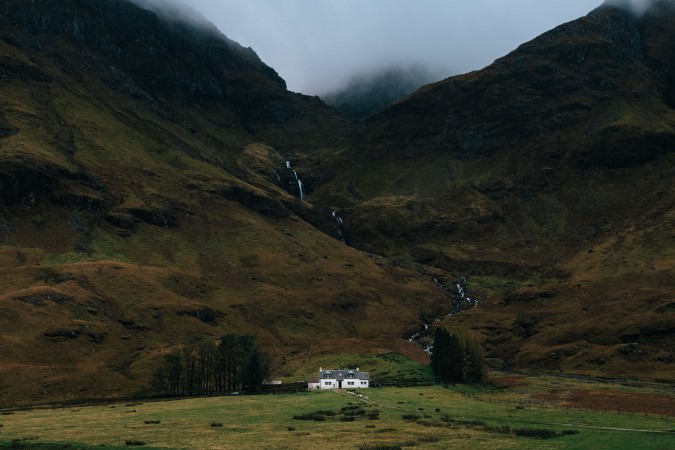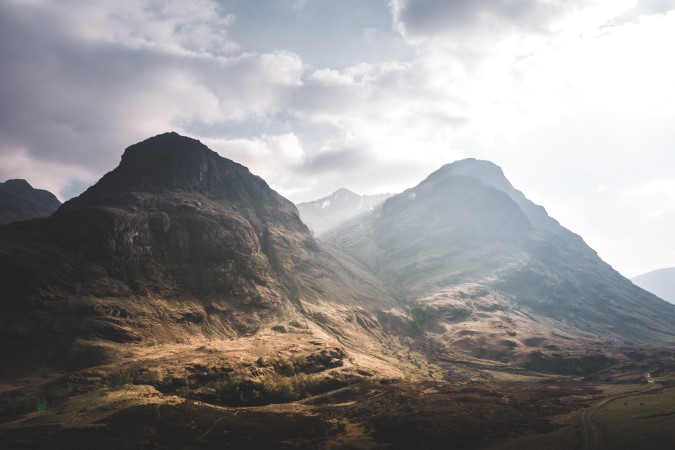 Previous
Next
The Lost Valley
The route between two of the Three Sisters, Beinn Fhada and Gear Aonach, is pretty straightforward to follow throughout but does involve some scrambling over rocks, and a couple of wet or boggy areas. So, we highly recommend you do not do the walk in trainers. 
From the main parking area on the A82 that stares directly at the Three Sisters, you'll head down and to the left, following the clear path and aiming between the two peaks.
Cross the footbridge over the River Coe and after that simply continue on, following the stream between the sisters, and the well-worn path until you reach the valley that lies within.
You'll see a stunning glen guarded on all sides by mountains with a flat high meadow, and giant boulders to shelter behind (making it an amazing place to camp). 
There's also a feint path that leads up to more challenging mountain routes (up to Bidean nam Bian). 
The way back follows the same route as the journey up.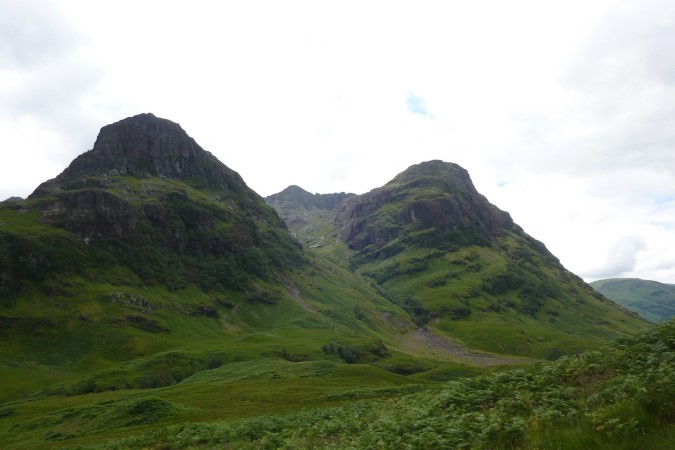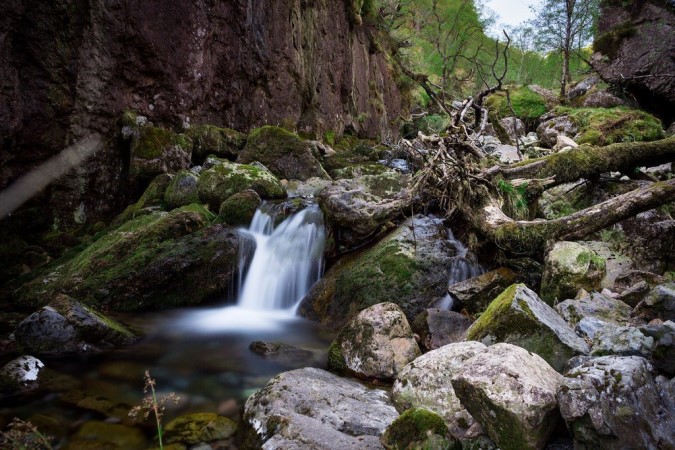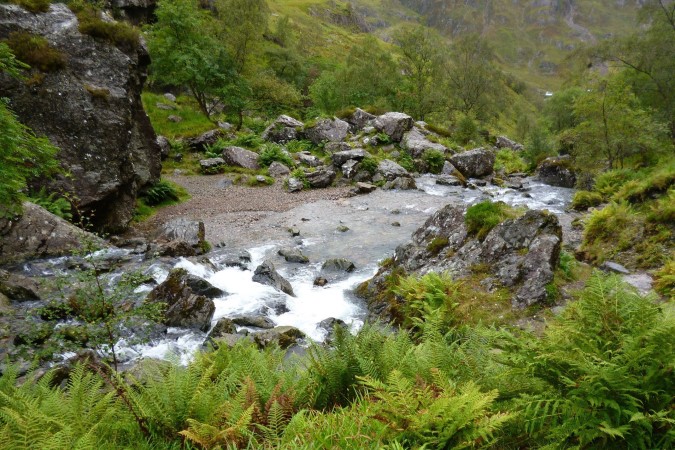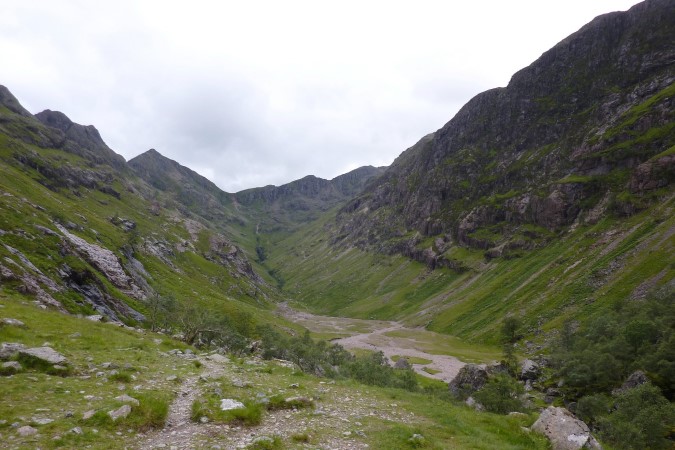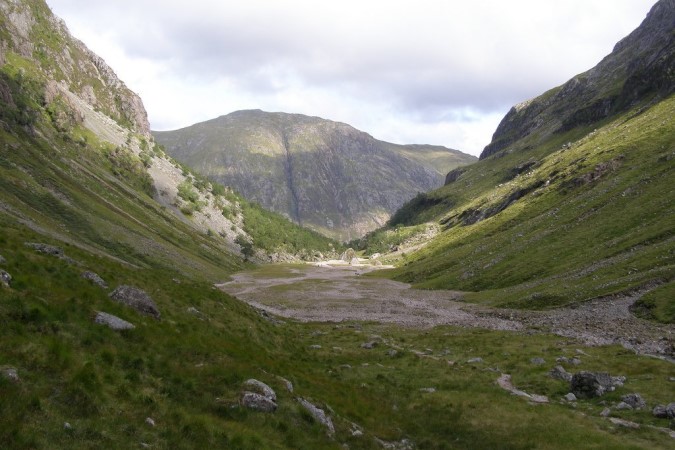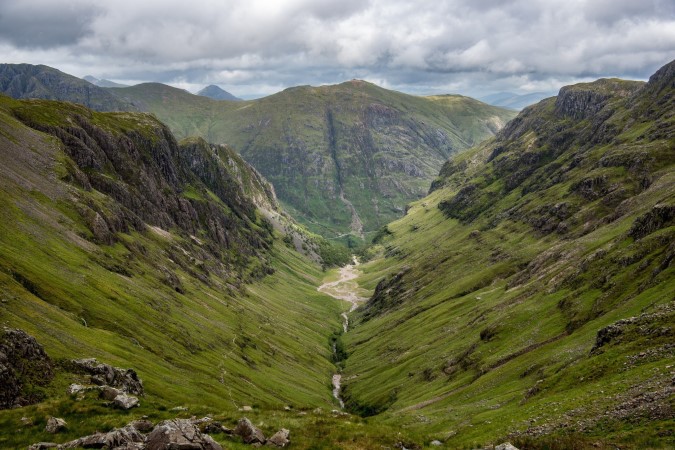 Previous
Next
Image credits: Niklas Flindt, Colin Gregory, Andrew Bowden, GaryE1981
Lost Valley Video
https://www.youtube.com/watch?v=bIBZN6NQKQsCredits: Glencoe Heritage Trust
Extending the walk
If that's not enough and you want to extend your walk, at the end of Lost Valley is the route up to Stob Coire Sgreamhach. A Munro and part of the Bidean nam Bian mountain range, a complex array of dramatic crags, ridges and summits that makes for a stunning hike.
Stob Coire Sgreamhach and the mountains around Glencoe do require some mountaineering experience, so don't give into temptation to climb beyond lost valley unless you have, or are with people who have.
Below are some of the views from Stob Coire Sgreamhach: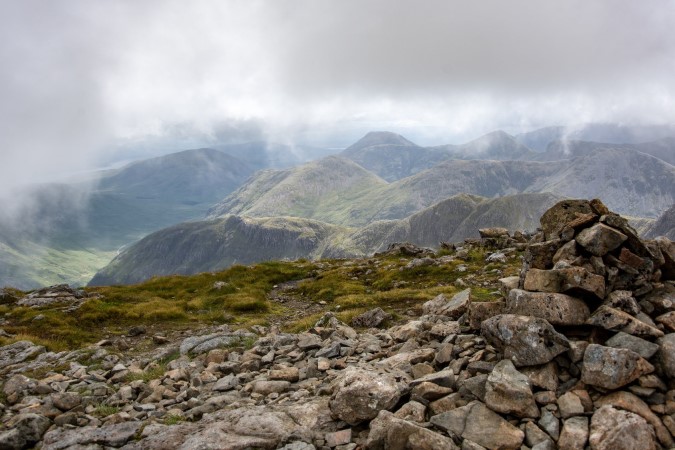 Credits: GaryE1981
Travel Essentials

TRAVEL INSURANCE


FLIGHTS


ACCOMMODATION


TRAINS & BUSES


CAR RENTAL


GEAR

Transport (How to get there)
Unfortunately there's not too many options for transport when it comes to getting to the Lost Valley in Glencoe. By far the easiest way is to drive, so if you can jump in the car we'd recommend that.  It's a stunning drive and there are car parks nearby.
The car park directly across from the Lost Valley is often quite busy, so we recommend getting there early to ensure a parking space.
In terms of other transport, you can get a CityLink bus to Glencoe and get off at the Glencoe Visitor Centre stop which is 4.3 miles away from the Lost Valley.  Or ask the driver if they would kindly stop at one of the lay byes nearer the Lost Valley.
Parking (Nearest)
Lost Valley Car Park (A82 road)
Cark Park (5 miles away)
Buses (Nearest)
Glencoe Visitors Centre (4.3 miles)
Glencoe Village (5 miles away)

DRIVING ROUTE


CAR SHARE


TRAIN TIMES


BUS TIMES

Route & Terrain
The trek is fairly rugged and rocky with a low stream to wade through and some dirt tracks as well.  There's some moderate scrambling involved but overall it's very accessible for all levels of hiker.
If you continue on up to Stob Coire Sgreamhach from the Lost Valley, the route up can be a bit more challenging with steeper climbs and rocky paths so only tackle this if you have the right gear and experience.
Climate & Weather
Obviously the weather will be different depending on what time of year you do the walk.  Between April to October you'll likely find a mix of sunny, overcast, rainy and windy days. Sometimes all of that in one day. 
Be prepared: The weather in Scotland can change really quickly.  That's all part of the challenge and fun though. 
Lodging & Camping
Hotels & BnBs (nearby)
Kingshouse Hotel (6 miles)
Clachaig Inn (3 miles)
Beechwood Cottage (5 miles)
More in Glencoe (5 miles)
Campsites (nearby)
Glencoe Camping (4 miles)
Red Squirrel Camp (4 miles)
Invercoe Campsite (6 miles)
Caolasnacon (9 miles)
Hostels & Lodges (nearby)
Glencoe Independent (4 miles)
Glencoe Youth Hostel (4 miles)
Aos Sí Lodges (7.6 miles)
More in Glencoe Village (5 miles)
Wild Camping
Wild camping is permitted in the Lost Valley (Atmospheric but quite eerie at night!).  There's also plenty of good wild camping spots in Glencoe.  Just stick to the leave no trace principles!

BOOKING.COM


HOSTELS.COM


EXPEDIA


HOSTELWORLD

What Gear to Bring
Backpacking
Daypack
Hiking boots
Hiking socks
Trekking poles
GET THESE
Clothing
Rain jacket
Hiking trousers
Wicking t-shirts
Wicking underwear
GET THESE
Other
First aid kit
Camera
Food / Water
Mobile phone
GET THESE
Recommended Tours

SCOTTISH MOUNTAIN HOLIDAYS


HF HOLIDAYS

History of the Lost Valley
According to geologists the Lost Valley was formed by ice that was trapped in the valley after a huge ice cap flowed down through Glencoe on it's way to the sea.  Eroding the rock formations to finally form what we see today. 
In more recent times, the Lost Valley was where members of Clan Macdonald supposedly hid the cattle they stole from their neighbouring clans. Not a bad hiding spot!
The hidden glen also has a dark past: it was here that many Clan MacDonald members took refuge in the immediate aftermath of the Glencoe massacre in 1692.
Travel Essentials

TRAVEL INSURANCE


FLIGHTS


ACCOMMODATION


TRAINS & BUSES


CAR RENTAL


GEAR

FAQs
Are there extra activities nearby?
Glen Etive
Glencoe Village
Three Sisters of Glencoe
Buachaille Etive Mor
Glencoe Lochan
Stob Coire Raineach
How fit do I have to be to do the walk?
If you're in healthy condition and can walk a distance without getting out of breathe then you'll be fine. Just expect to work up a bit of a sweat, and wear appropriate footwear.
Is the walk family friendly?
Yep, it's a great day out and family adventure!
Is it safe to drink from the streams?
You can but to be 100% sure the water is safe you can use a good water filter!
Worth a share? Go on…
Share on facebook
Facebook
Share on twitter
Twitter
Share on linkedin
LinkedIn
Share on pinterest
Pinterest
Share on email
Email
Related Guides
West Highland Way: The Guide
Scotland's Munros: The List
8 of the Best Long Distance Walks in Scotland
READ