7 of The Best Long Distance Hiking Backpacks
Share:
Share on facebook
Share on twitter
Share on linkedin
Share on pinterest
Share on email
This page contains affiliate links
Second only to the boots on your feet, your backpack is the single most important part of your hiking kit, especially so when tackling a multi-dayer.
With so much essential equipment to carry, your back's best friend must be voluminous, accessible, strong and above all – comfortable. Going ultralight may be all the rage but unless you've spent a bomb on minimising the rest of your gear, your pack must be able to comfortably handle 15 to 20 Kg, depending on the length of your walk.
By comparison, the maximum load that the superlight, frameless, cuben fiber type packs can carry is about 12 Kg, after which they become unusable. So here is our selection of the best load carrying systems for those of us mortals who enjoy one or two long distance trips per year, rather than trying to break speed records on the Appalachian Trail.
Not sure how to choose the right hiking backpack? Check out this video from REI that explains all essentials for choosing your ideal backpack:
https://www.youtube.com/watch?v=LI1va-97f4w
#1 Arcteryx Bora AR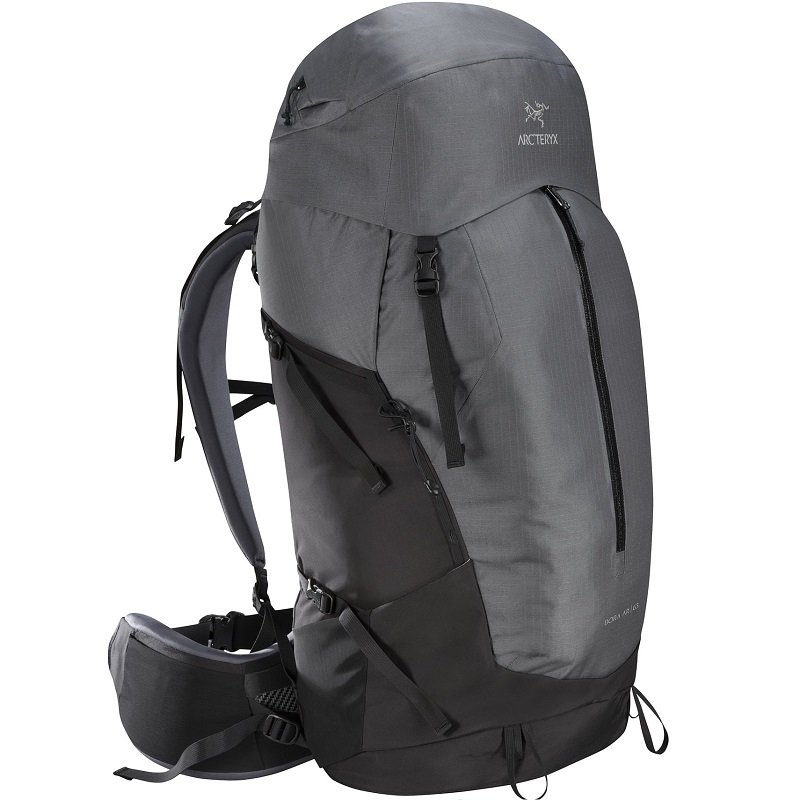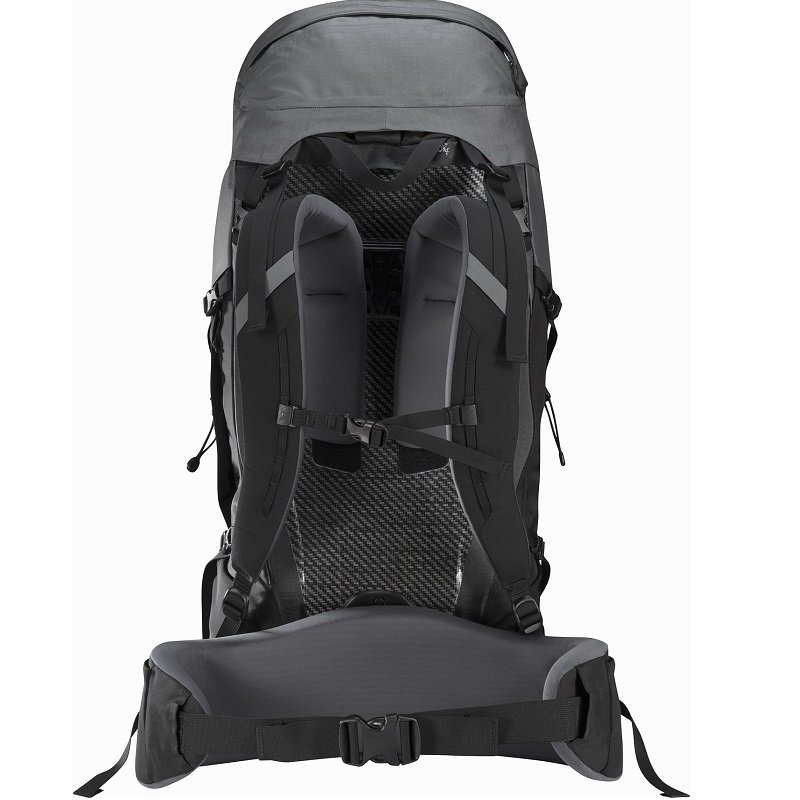 Generally agreed to be one of the best all-round outdoor gear companies, Canada's Arc'teryx offer beauty in their clean designs as well as epic durability and innovation. Within their tight pack range the Bora is their multi-day hiking model, the AR standing for All-Round use.
The harness is uniquely constructed with its RotoGlide hip belt, which gives gentle suspension to the load as the body moves over different terrain, and the GridLock shoulder straps which offer easy adjustment in both height and width.
The pack itself is made from robust and weatherproof fabrics and has all the features you'd expect, including side access and a 'kangaroo pocket' at the front for dirty/wet gear. The closed cell foam of the shoulder straps and hip belt will mould to the users contours and not be damaged by passing bushes.
Key Details
Weight: 2.3 kg
Volume: 63 – 64 litres
420D/630D Nylon
2 Harness sizes
Strengths
RotoGlide hip belt
Harness adjustability
Durable
Weatherproof fabric
Weaknesses
Expensive
Few attachment points
Scores
Pricing (M)

AMAZON
Go


REI
Go


ARCTERYX
Go


TREKITT
Go

Pricing (F)

AMAZON
Go


REI
Go


ARCTERYX
Go


ALPINE TREK
Go

#2 Mystery Ranch Stein 62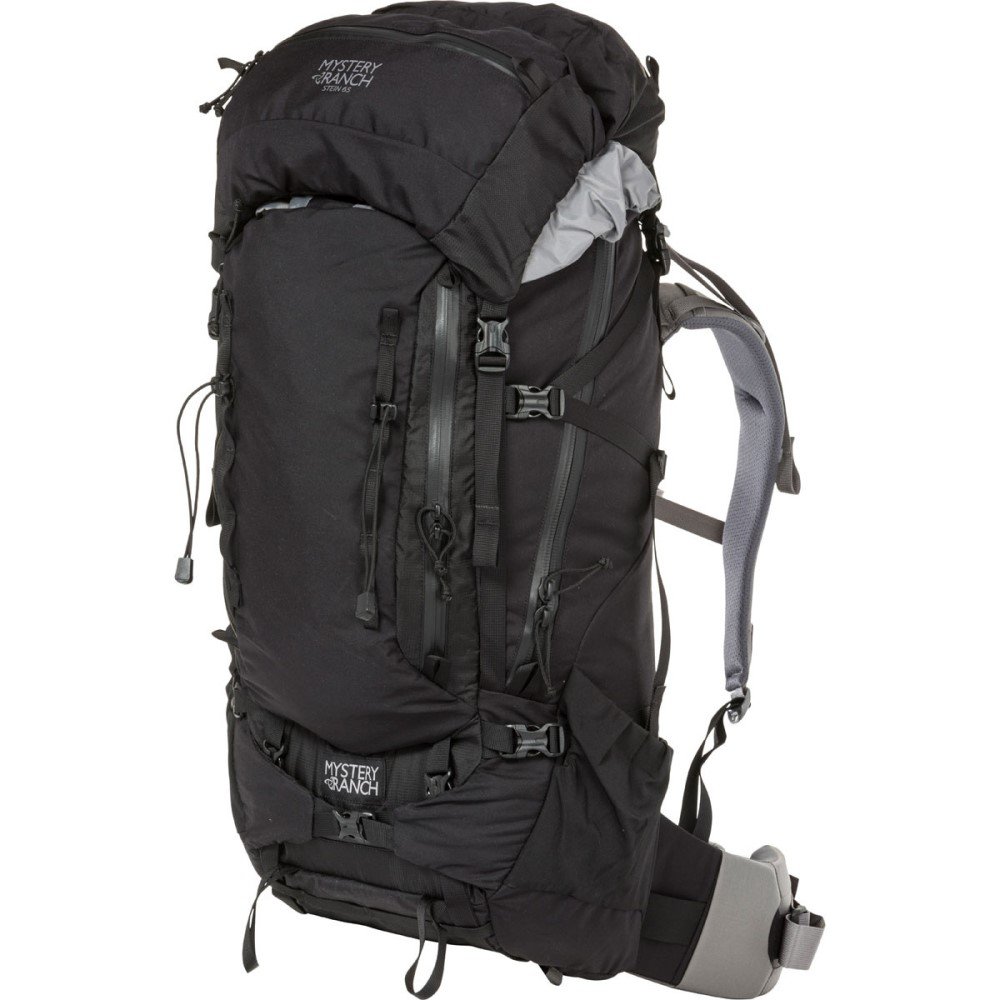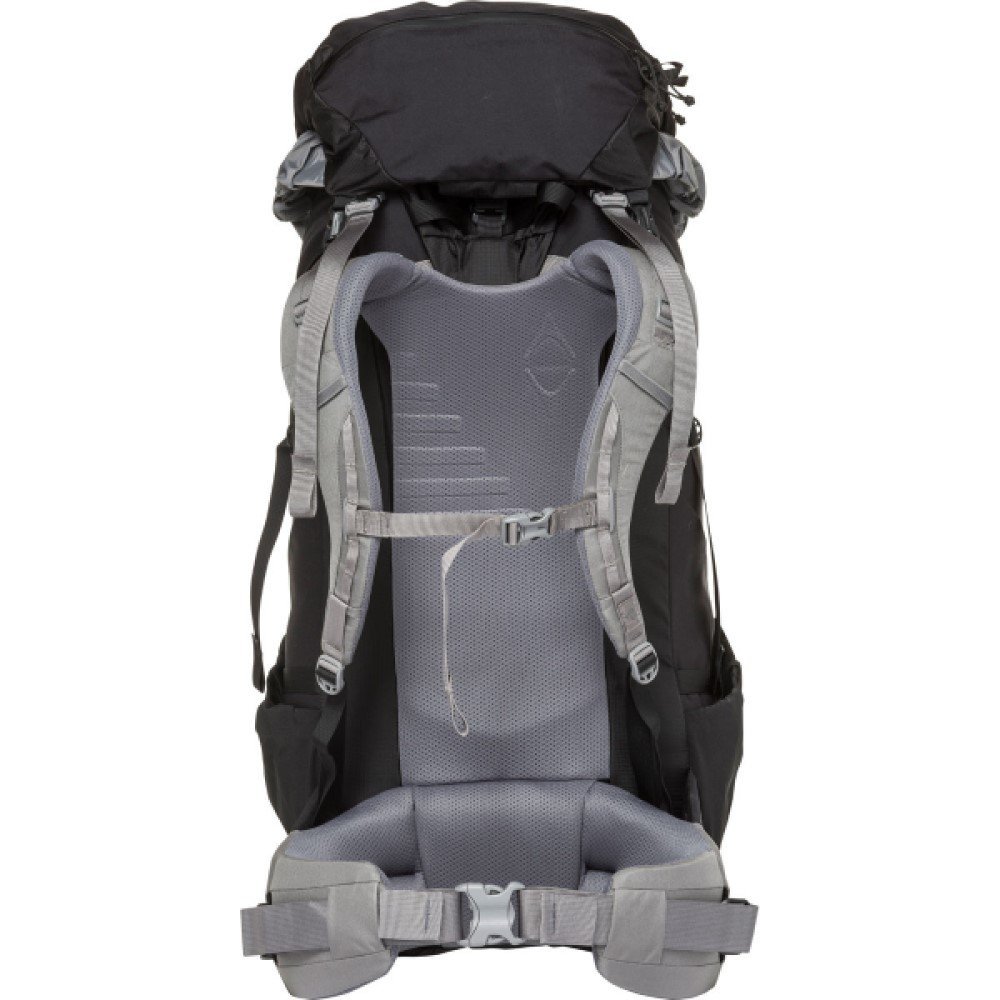 Relatively new to the outdoor fold, Montana's Mystery Ranch have been traditionally active in the military and fire rescue categories but have recently become very sought after in hiking circles for their impressive load carrying ability.
This confidence is brought by their dedication to harness design above all else, and the telescoping adjustment of the Stein's Mountain Frame combined with its flexible sheet ensure the load sticks to your back through any movement.
The features of the main pack body are less innovative but still cover all the bases in terms of pockets, attachments, compression etc. One notable feature is the removable lid that uses the packs original shoulder straps and yoke as its own harness – a great idea for the most comfortable summit pack ever.
Key Details
Weight: 2.22 kg
Volume: 65 litres
210D/330D Robic
4 Harness sizes
Strengths
Adjustability and fit
Comfortable
Removable day pack
Load capacity
Weaknesses
Cluttered exterior
Scores
Pricing (M)

AMAZON
Go


ALPINE TREK
Go


BACKCOUNTRY
Go


MOOSEJAW
Go

Pricing (F)

AMAZON
Go


ALPINE TREK
Go


BACKCOUNTRY
Go


MYSTERY RANCH
Go

#3 Gregory Baltoro 75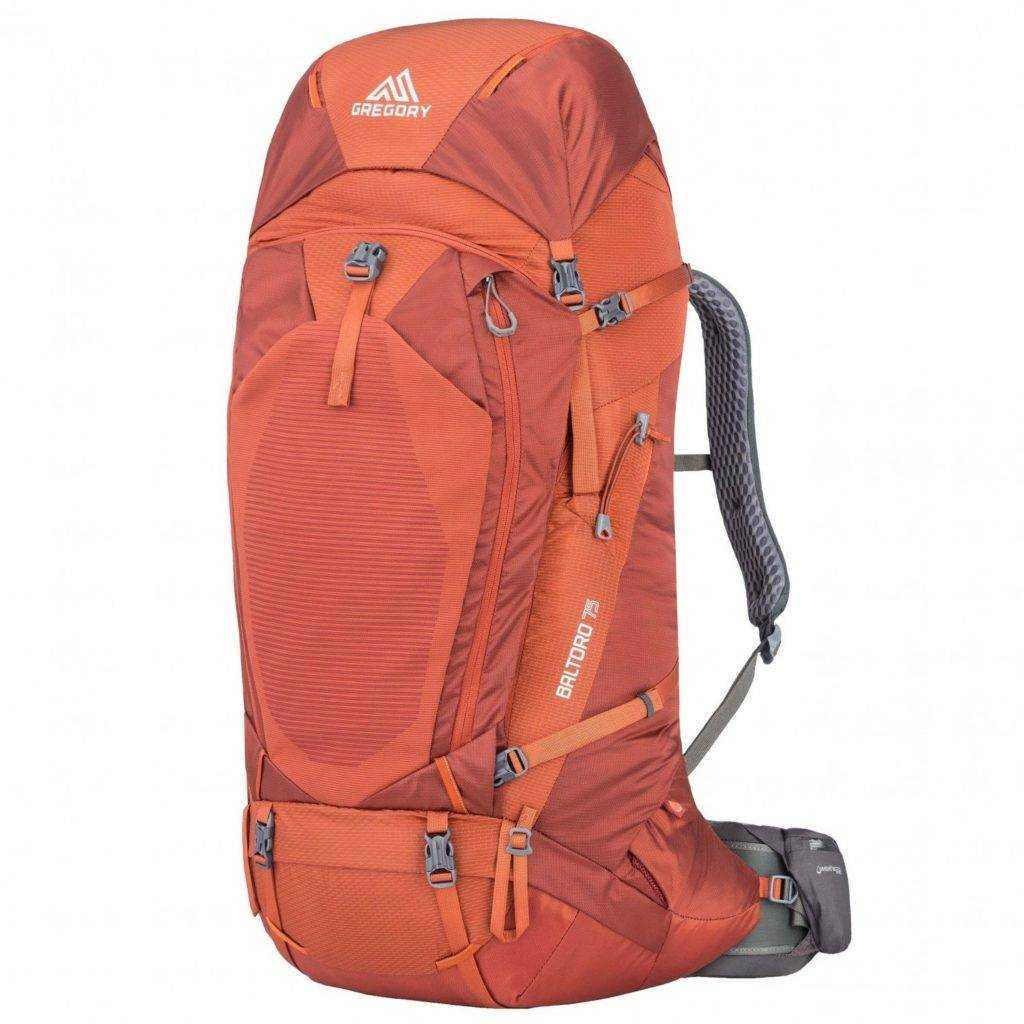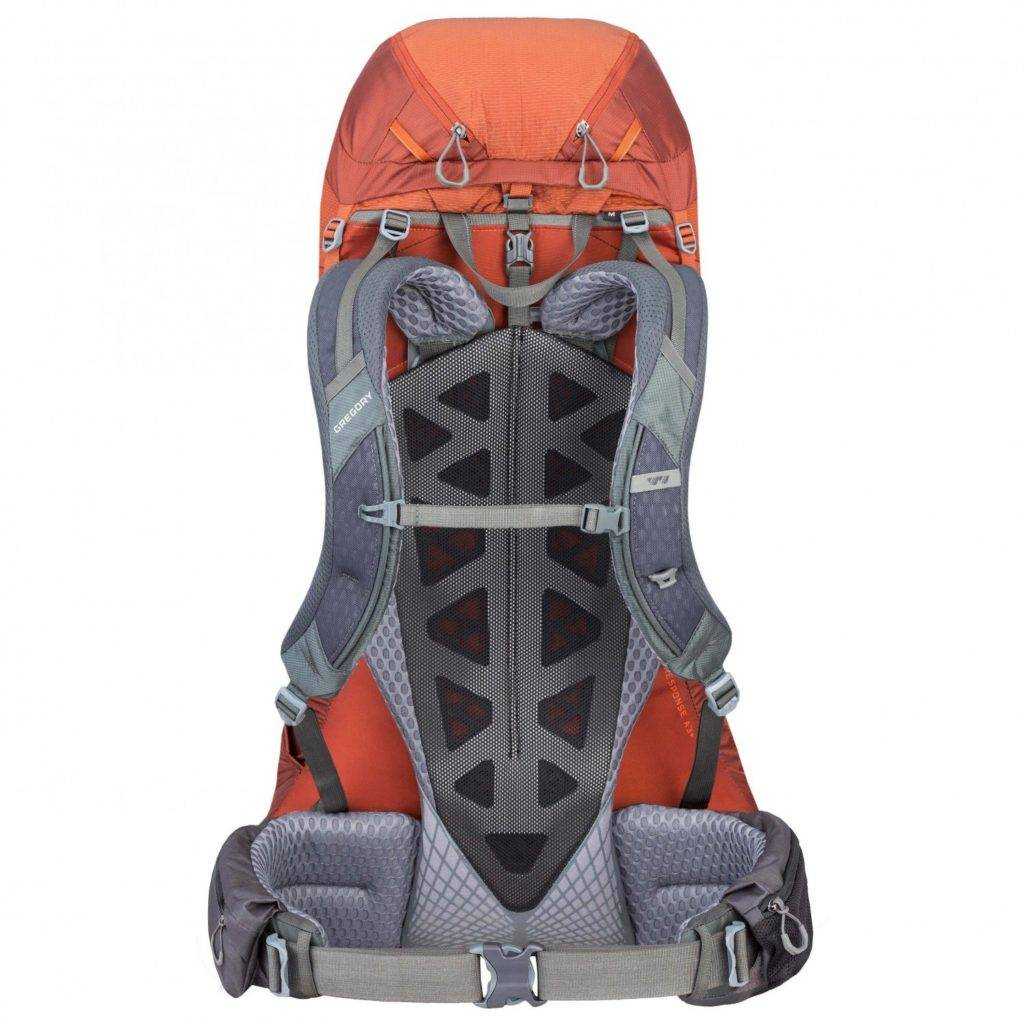 Routinely appearing at or near the top of 'Best Backpacks' lists, Gregory's flagship model has much to commend it. The stiff EVA hip belt will carry loads like a mule, and the contouring of the shoulder straps is the best on test.
Interchangeable foam panels and a removable lumbar insert give excellent customizability. A silicone patch on the lumbar pad is designed to grip the wearer's shirt.
The Baltoro, named after a majestic glacier in Pakistan, boasts some cool innovations and features, such as the stowable water bottle pocket and waterproofed hip belt pocket. The hydration sleeve moonlights as the SideKick day pack, the hip belt of which does double duty as compression straps on the main pack. People seem to love the twin lid pockets as well.
Key Details
Weight: 2.5 kg
Volume: 75 litres
630D/420D Nylon
3 Harness sizes
Strengths
RotoGlide hip belt
Harness adjustability
Durable
Weatherproof fabric
Weaknesses
Bit heavy
Scores
Pricing (M)

AMAZON
Go


REI
Go


ALPINE TREK
Go


TREKITT
Go

Pricing (F)

AMAZON
Go


REI
Go


ALPINE TREK
Go


TREKITT
Go

#4 Osprey Aether AG 70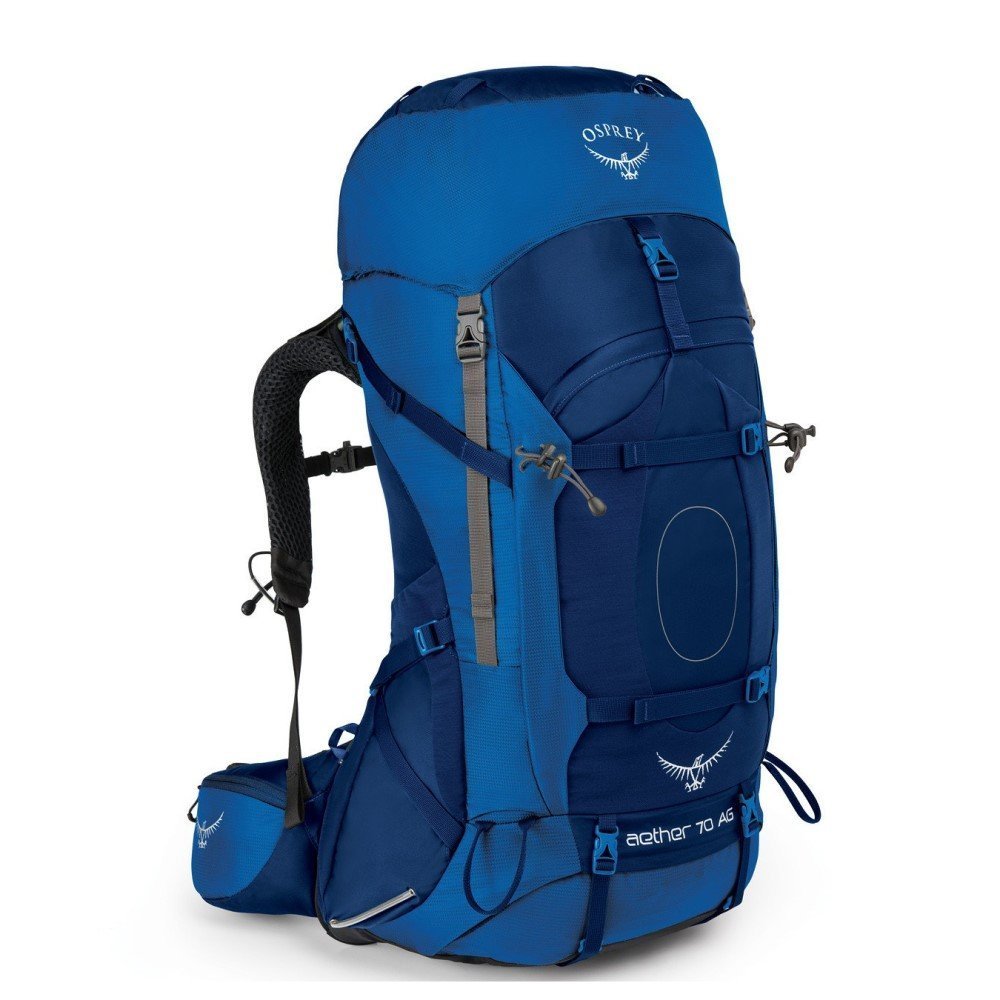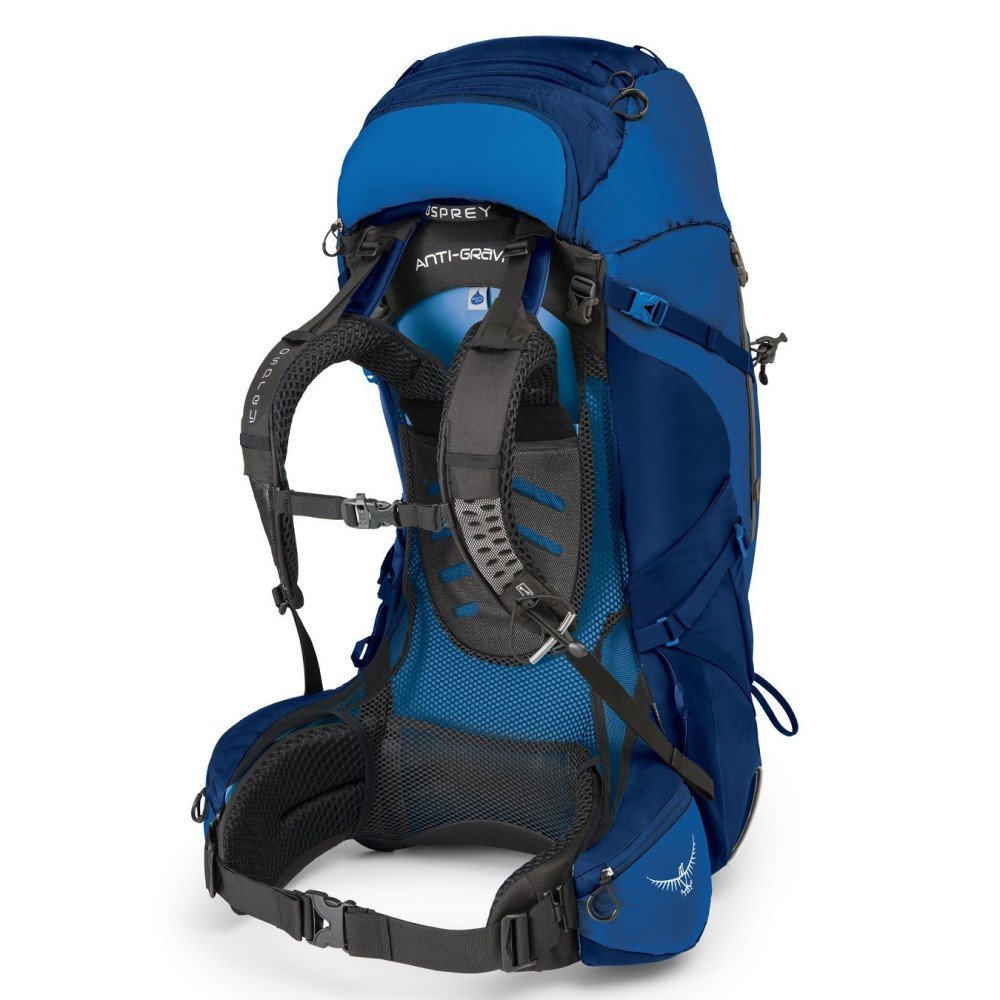 Innovating for 20 years and showing no signs of slowing down. Osprey's Anti-Gravity harness, introduced in 2015, hugs the hips is remarkably comfortable, and by increasing ventilation around the back it keeps your back cool and relatively dry.
This moves the load further away from the user's centre of gravity however, creating less of a balanced feeling than in some competitors.
The pack is designed down to a tee, with every conceivable convenience including side access, trekking pole stowage, hydration, and the new DayLid – an awesome day pack that pops out of the main pack's lid. With the lid gone, the pack contents are still protected by the lightweight FlapJacket, although we found this feature really got in the way when not in use.
Key Details
Weight: 2.3 kg
Volume: 67 – 76 litres
210D/500D Nylon
4 Harness sizes
Strengths
Super ventilation
Removable DayLid Pack
Customisable harness
Compartment access
Weaknesses
Centre of gravity
Flap Jacket
DayLid (US only)
Scores
Pricing (M)

AMAZON
Go


REI
Go


BACKCOUNTRY
Go


TREKITT
Go

Pricing (F)

AMAZON
Go


REI
Go


BACKCOUNTRY
Go


TREKITT
Go

#5 The North Face Banchee 65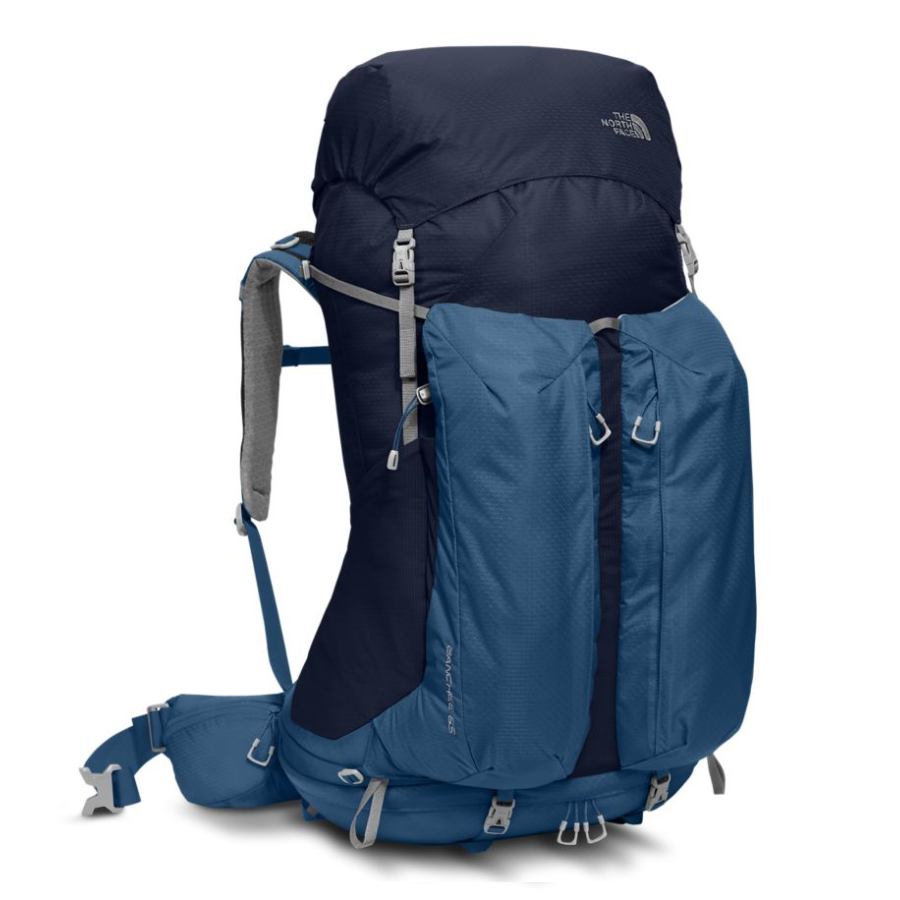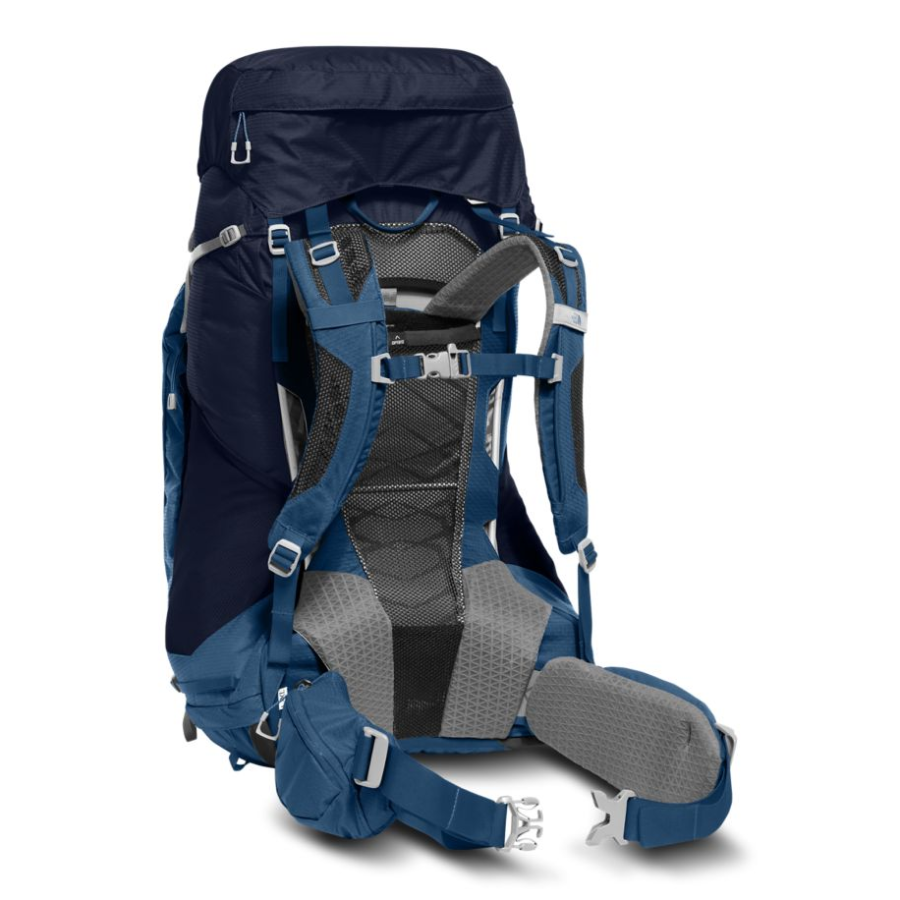 A curious-looking beast, the Banchee certainly isn't a bad stab at a multi-day hiking rucksack.
The Optifit harness is light, well ventilated and comfortable but adjustment is not as easy as it could be. The hip fin length adjustment is a lot simpler and also effective.
The unique look of the pack comes from its Beaver Tail construction, which integrates two large external pockets with compression straps, and also features a ventilated section for drying gear.
Another unusual feature is the internal divider designed to separate the sleeping bag compartment from the main load, and finally someone has finally got the zips on the hip belt pockets the right way around! Plus you can't argue with that weight.
Key Details
Weight: 1.67 kg
Volume: 65 litres
210D Nylon Ripstop
2 Harness sizes
Strengths
Lightweight
Lots of compartments
Comfortable fit
Weaknesses
Hard to adjust
Lower load capactity
Scores
Pricing (M)
Pricing (F)
#6 Lowe Alpine Cerro Torre 65:85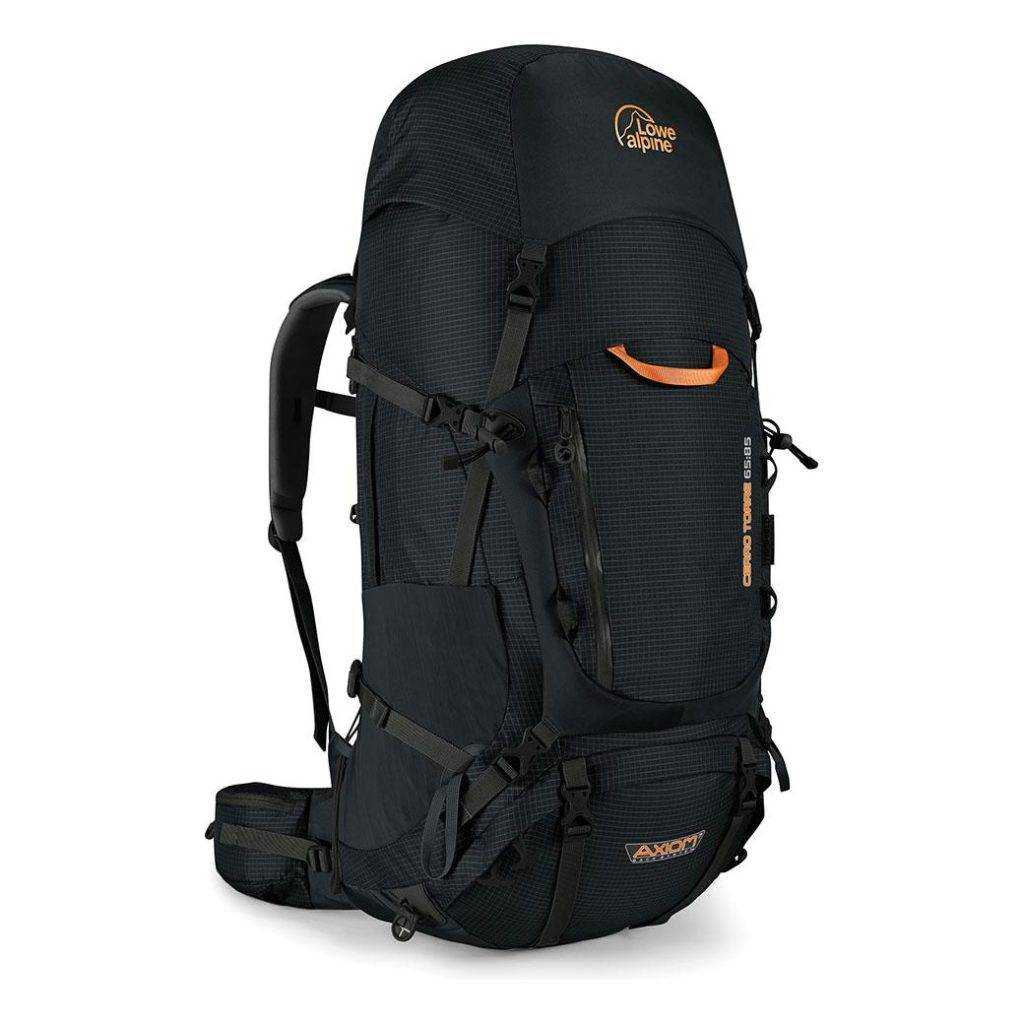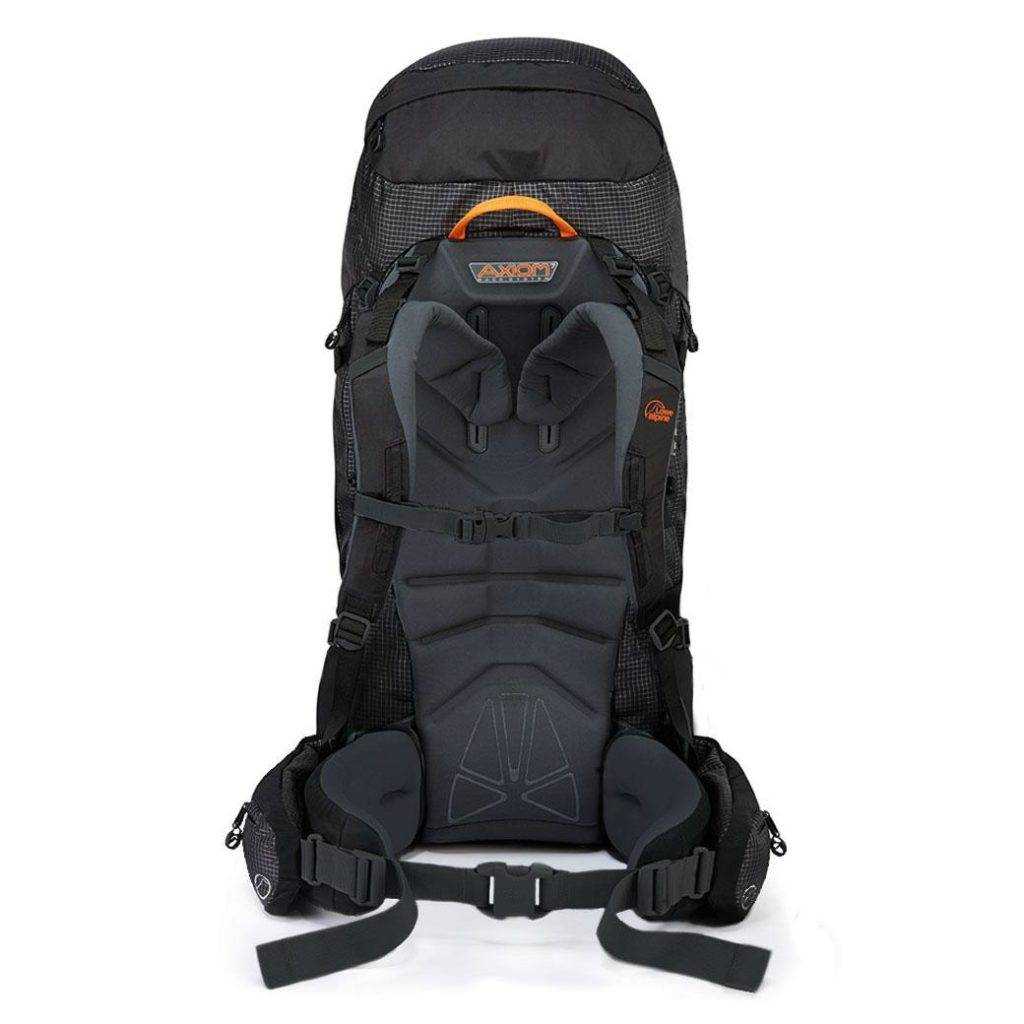 Founders the Lowe brothers may have been American but the Lowe Alpine brand is now most definitely British. Greg reportedly invented the internal frame backpack, the father of all modern designs, and the company's line of innovations continues to this day.
The current harness on the Cerro Torre is the Axiom 7, with its single pull, on-back length adjustment and rotating hip belt. While a neat idea, I didn't find the adjustment worked as easily as it was advertised.
Whatever feature you can think of that a multi-day pack should include is probably found somewhere on the Cerro Torre. Hydration sleeve that doubles as a summit pack, trekking pole Tip Grippers, U-shaped front entry, bottom compartment, adjustable lid, rain cover, etc. all of which adds up to the heaviest pack on test.
Key Details
Weight: 2.62 kg
Volume: 65 – 85 litres
420D Nylon Ripstop
2 Harness sizes
Strengths
Feature heavy
Strong harness
Voluminous
Weaknesses
On the heavy side
Tricky length adjustment
Scores
Pricing (M)

AMAZON
Go


LOWE
Go


BACKCOUNTRY
Go


TREKITT
Go

Pricing (F)

AMAZON
Go


LOWE
Go


BACKCOUNTRY
Go


TREKITT
Go

#7 Deuter AirContact Lite 65+10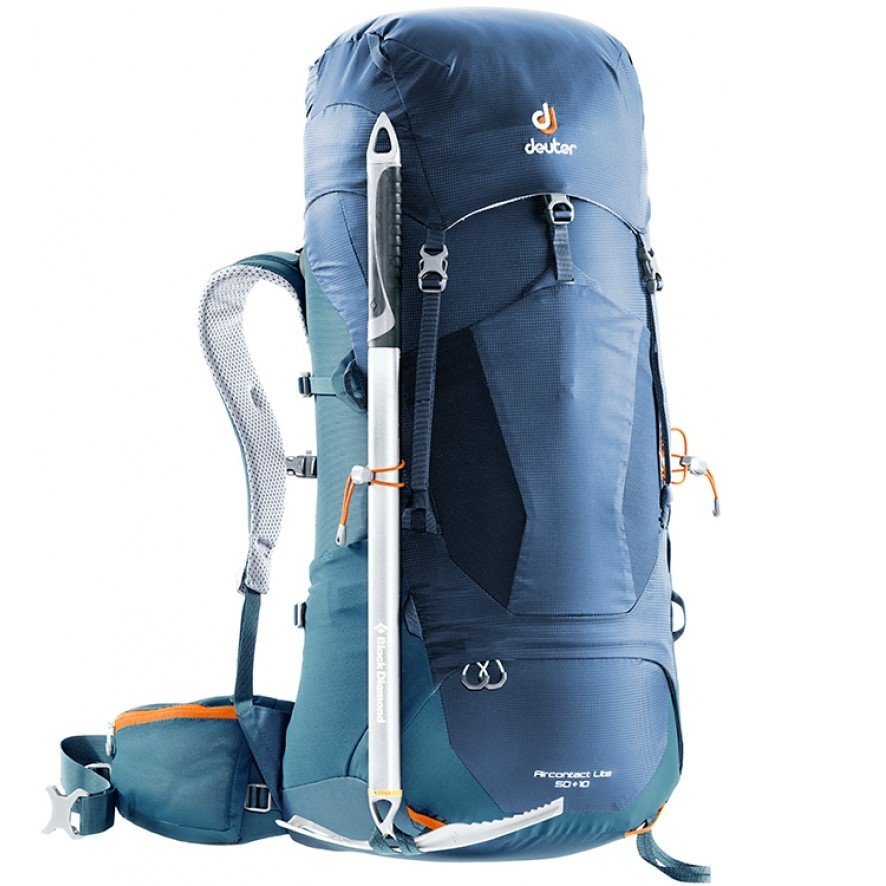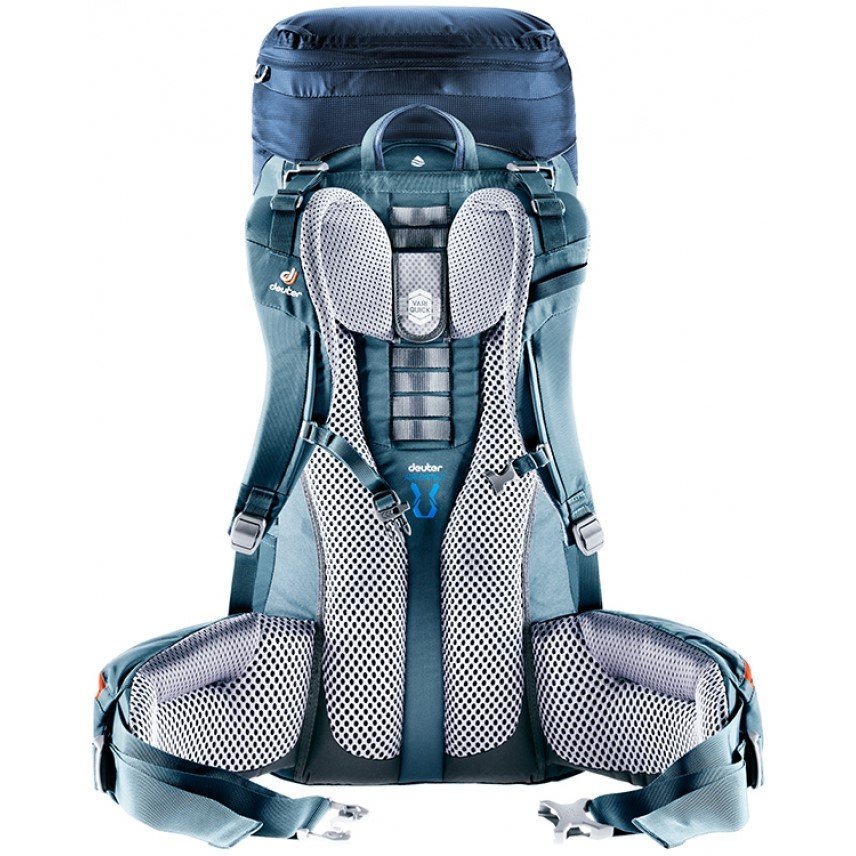 These German specialists have been making packs for over 120 years and are well respected all around the globe, and especially in Europe. The AirContact Lite is built around their AirContact harness, which offers good lumbar support combined with a wide channel for venting the back of hot air.
It has a wide range of back length adjustability, although those with a shorter torso might find the pack's tall and narrow silhouette means it towers above their heads.
The pack's volume is adjusted by raising the lid, and side compression straps help to minimize the pack when not fully loaded. A plethora of pockets and attachment points increase the usability of this model.
Key Details
Weight: 1.99 kg
Volume: 65 – 75 litres
100D/600D Nylon
1 Harness size
Strengths
Under 2kg
Loads of features
Worldwide warranty
Weaknesses
Single back length
Average ventilation
Scores
Pricing (M)

AMAZON
Go


REI
Go


BACKCOUNTRY
Go


TREKITT
Go

Pricing (F)

AMAZON
Go


REI
Go


BACKCOUNTRY
Go


TREKITT
Go

Not sure how to choose the right hiking backpack? Check out this video from REI that explains all essentials for choosing your ideal backpack:https://www.youtube.com/watch?v=LI1va-97f4w
Worth a share? Go on…
Share on facebook
Facebook
Share on twitter
Twitter
Share on linkedin
LinkedIn
Share on pinterest
Pinterest
Share on email
Email
Related Guides
Best Hiking Boots For Men
Best Solo Backpacking Tents
Best Long Distance Hiking Backpacks
READ